You can either assign each video individually or assign multiple videos together.
(Or check out our articles on how to post assignments if you're using Google Classroom, Canvas, Schoology or Moodle.)
Assigning videos individually
Once you've edited your video lesson, you can assign it to a class directly.
      1. While in the "Content" tab, click on "My Content" on the left-hand side.
2. Check the box below the video (or videos) you wish to assign. 
3. Select "Assign" from the bottom menu.
       4. Choose the classes you want to assign the video to.
       5. Add a start date, due date and start time, and choose if you want to prevent skipping, turn on closed-captioning or post on Google Classroom if desired.
       6. Click "Assign" and you're done!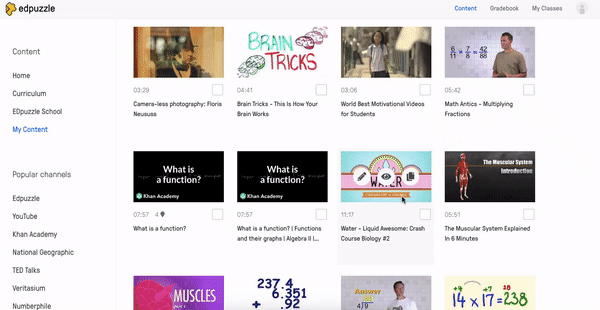 If you're not ready to assign the video(s), click "Later." Your lesson will be saved for when you want to continue editing or when it's ready to be assigned.
You can also check out our articles on how to assign a start and due date and how to prevent or allow skipping.