Once you've created your class, you're ready to invite your students! You can do this by sharing either your Class Code or a direct class link with them. If you use Google Classroom, you can also import your students directly from Google Classroom.
Using your Class Code
NOTE: See the instructions below if you're using Google Classroom or check out this article: https://support.edpuzzle.com/hc/en-us/articles/360007544112 
Each class you create is associated with a unique Class Code that connects your students to the class. If a student doesn't yet have an Edpuzzle account, they will be prompted to create one in order to join the class. Here's how to invite your students:
1. Click the "My Classes" tab in the top right corner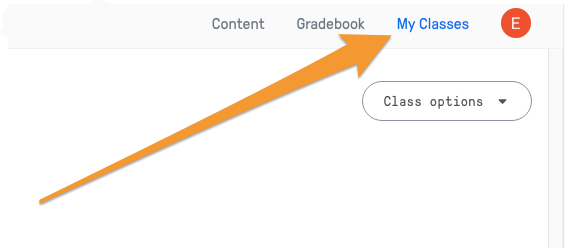 2. Select the class where you'd like to invite your students

3. Click on the "Students" tab and then the blue "Invite students" button 

Note: If you can't find your class code and you're missing the blue "Invite more students" button, you have already connected your class to Google Classroom.
Importing new students from Google Classroom
When a Google Classroom is connected to an Edpuzzle classroom, the roster is automatically imported.
However, once a classroom has been connected to Google Classroom, the only way to add more students to the class is to add the students to the Google Classroom course and import them to Edpuzzle.
Here's how you can import your students Google Classroom roster to Edpuzzle:
1. Check your Google Classroom to make sure the student is on the roster for the same Google Classroom connect class in Edpuzzle. If they are not, you'll need to add them to the Google Classroom before proceeding
2. Go to edpuzzle.com and click the "My Classes" tab at the top right
3. Select the class you've connected to Google Classroom
4. Click the Students tab and on the right-hand side you'll see the "Import students" button
Any new students who joined the Google Classroom course after it was originally imported will be enrolled in the Edpuzzle classroom. The student will have to log in to Edpuzzle with their Google Classroom account and be on the Google Classroom roster as well.
Young Students 
If your students are too young to manage Edpuzzle by themselves or do not have email addresses, here are some recommended options:
Engage the parents

. Assign videos to watch at home and let parents manage the students' accounts. We have seen a significant impact on student learning and behavior in class when teachers use this technique. Parents are also more aligned with the teacher, and students understand the lessons better.

Easy usernames

. Edpuzzle students can create accounts with a username & password -- they do not need an email to sign up. With students who might struggle to memorize these, we recommend using simple login information. Something fun, memorable, and secure for your students!

Watch the video together

. Having 5 minutes to watch a lesson and answer questions together is a great way to use Edpuzzle. With this technique, there is no need to create accounts and the students can stop and answer questions in teams or individually.