If you're wondering why you should add audio, studies show that students pay more attention to information if they hear it from a familiar voice. A voiceover is an audio narration for the duration of the whole video.  
To record a voiceover, use the video editing page and follow these steps:
In "My Content," check the box below the video you would like to edit and select "Edit" from the bottom menu.

Click the "Voiceover" button in the top bar.

Next, click the blue microphone icon next to the play button below the video. This will start recording your voice. 

If this is your first time recording audio on Edpuzzle, a pop-up window will appear in the top left of your screen. Click "allow" so that your audio can be recorded.

To preview the video without recording, click the play button (this will not record your voice).

Your voice will be recorded for the whole duration of the video, but if you want to pause recording, click the pause button.

To resume voice recording, click the microphone button again.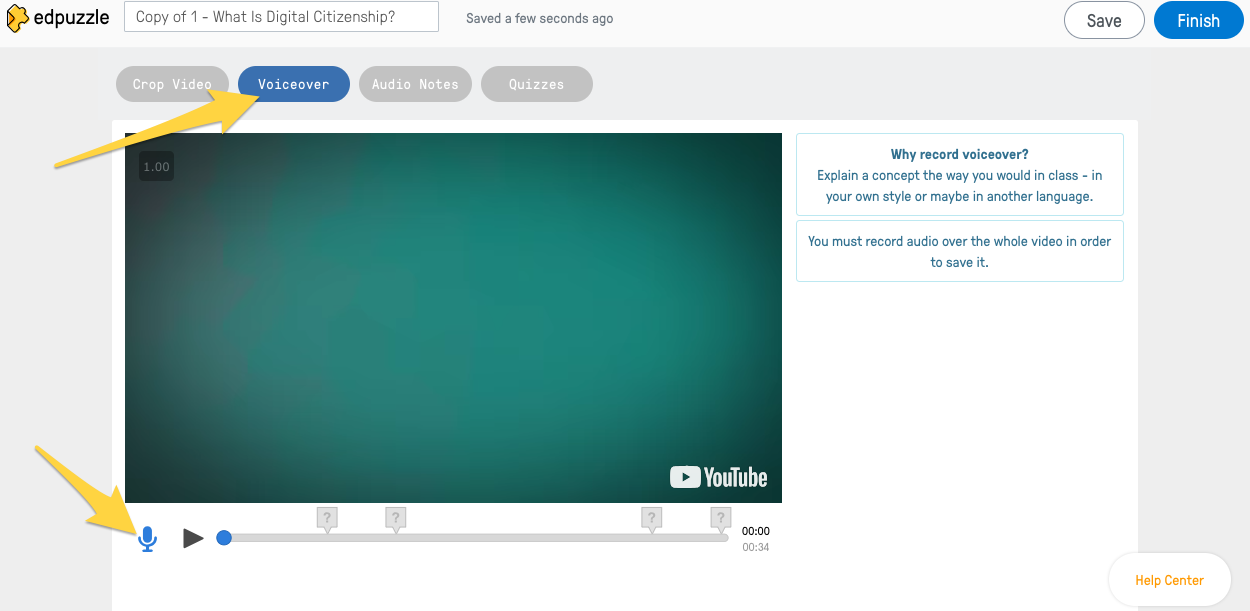 Remember that you have to record audio for the whole video in order to save it.
Note: If you've recorded a section and realize that you need to re-record it, there's an option below the video to "Remove the last recording." Clicking this will only remove the part that you just recorded. If you want to remove everything recorded so far, click the "Reset the whole recording" button.

You can also check out our article on how to record an audio note.